Description
Join us for our Annual General Meeting and Monthly Social on Tuesday November 22 at the Floral Hall at VanDusen Botanical Garden (37th Avenue at Oak Street).  The doors open at 6pm for socializing and the meeting starts at 7pm. We're hoping for a good turn-out, so please come and bring a friend.
Here's what's happening…
Popcorn and Beverages: Enjoy popcorn and your choice of beverage (tea, pop, juice, or beer) while socializing and listening to the presentations.
Annual Reports from the Executive: Come find out what the executive has been doing this year on behalf of members. There will be a summary of events and activities, plus the annual financial report.
Feature Presentation by Christian Veenstra: "The Triple 'M' Triathlon: Misty, McBride, and Mamquam by Bike, Canoe, and Ski".  Christian Veenstra is our special guest speaker for the evening, and he's excited to share the story of his trip into the heart of Garibaldi Provincial Park. The Misty Icefield Ski Traverse is a gem of the Coast Mountains located just north of Metro Vancouver. However, it is under-skied due to the transport logistics (usually involving both a water taxi and a ~500km return car shuttle) and the inability of placing a food drop in the park. Join Christian as he discusses his 4.5 day, ~300km/10,000m self-propelled 'solution', linking the Misty Icefield with the McBride Traverse then skiing back over Mount Mamquam to make a loop, and getting there unsupported from his doorstep in Oakridge Vancouver via bike and canoe on a homemade trailer.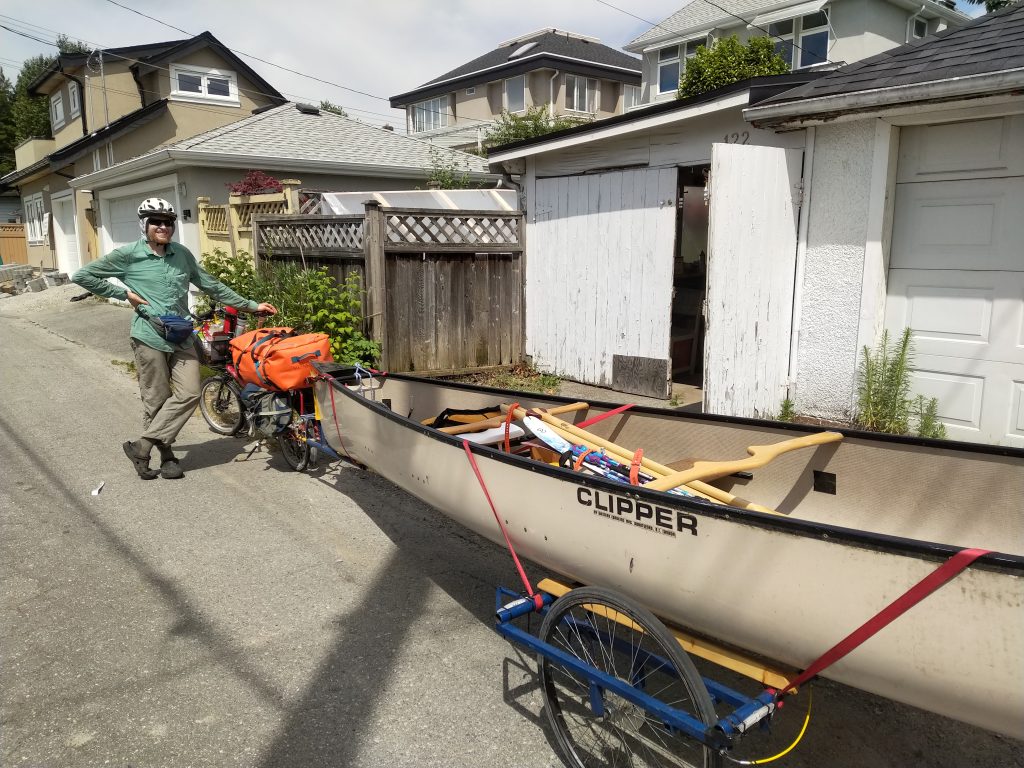 Door Prizes: There will be several door prizes, including copies of the 2022 Canadian Alpine Journal.
Volunteer Draw Prizes: As a small way to say "thanks", we'll be giving away draw prizes to this year's wonderful volunteers. These folks include trip organizers, course instructors, mentors, and slideshow presenters. NOTE: Volunteers must be present at the meeting to receive a prize, so please attend in person!
This year our AGM will include special draw prizes for our volunteers. Included are:

Fjallraven gift cards x 2 (courtesy Fjallraven Vancouver)
Arc'teryx 55 liter pack (courtesy of Tony Knight)
Arc'teryx Atom Hoody (courtesy of Arc'teryx Vancouver)
Mammut 9.5mm climbing rope (courtesy of Coast Mountain Collective)
Intuition hut booties (courtesy of Intuition)
MEC 30 liter packs (courtesy of MEC)

You must attend the AGM to win!

There will also be door prizes including copies of the 2022 Canadian Alpine Journal, BMFFWT tickets in person show Dec 2 and VIMFF online tickets.

Come on out and enjoy a beverage, some popcorn and cookies and listen to our speaker.
A special thanks to Mahony's Tavern for donating the Beer once again for our AGM and for the use of their space for our social events.
A special thanks to Fjallraven for the use of the Broadway store for our educational nights!!!
A special thanks to Black Tusk Helicopters for the ongoing heli support and staging of our hut supplies.
A special thanks to BlackSheepAdventure Sports for the ongoing support with AST courses, Ice Climbing and leadership development. https://blacksheepadventure.ca/
Looking forward to seeing you at the AGM!!
Guest sign-up
Sign-ups are no longer available for this event.