Our courses are intended to present those with little or no mountaineering experience a foundation sufficient to enable them to participate in club trips.
Mountaineering is a skill that takes years to become really experienced at, and our goal for these courses is to simply make you comfortable and confident enough with the basic skills that you can go out, practice, reinforce them and continue to learn from others on the various trips and camps the club puts on.
We run a variety of courses throughout the year. Check out the course information listed below the calendar or find a course using the events calendar.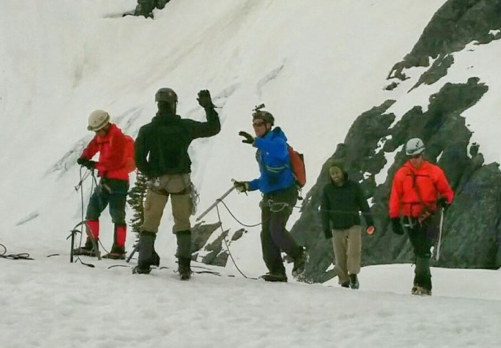 Loading…
Course Information
Intro to Backcountry Skiing (IBS) – Jan
Ski-Touring and Glacier Travel Skills (STGTS) – Feb-Mar
Top-Rope Anchor Construction (TRA) – Apr
Intro to Trad Climbing (ITC) – May
Intro to Rock Climbing (IRC) – May
Basic Mountaineering (BMC) – May-Jun
Intro to Sport Climbing (ISC) – May

Intermediate Mountaineering (IMC) – June-July
Read on for a more detailed description of each. Signup's are via the calendar and a small application form, usually available one month or more prior to the course date.
Introduction to Backcountry Skiing
This course will help to make you more confident when you go backcountry skiing.  Topics include what to wear, what equipment do you need, how to pack will be covered before the weekend.  On the weekend of the actual course students will be taken to two different locations and be given the opportunity to learn skinning and skiing techniques in a safe environment.
Typically runs: early February (posted December-Early January)
Length: One weekend (Friday evening – Sunday)
Prerequisites: Ability to ride blue runs safely under all conditions on the setup you are bringing to the course.
This course is not a substitute for proper avalanche training such as AST 1.
Full course description
Ski-Touring and Glacier Travel Skills
This is an advanced course for club members who have been touring for one to two years and want to learn about winter camping and  travel on glaciers.
Typically runs: Late February or early March (posted December-January)
Prerequisites: Ability to ski black diamond runs in any condition with a heavy pack, at least 10 backcountry ski days and 1 overnight backpacking trip, mountaineering experience, and recent crevasse rescue training/practice.
Participants are required to purchase and read the book "Backcountry Skiing Skills for Ski Touring and Ski Mountaineering" by Volken, Schell, and Wheeler (ISBN: 978-1-59485-038-7).
Building Top-Rope Anchors
This is a 2 day course intended to teach club members: (a) how to build anchors for top roping, and (b) how to rappel safely.  The course objective it is give participants a chance to learn the different types of anchor setups, and to practice building them while in a controlled setting. The evaluation of anchors with respect to security criteria is an important part of the course.
Typically runs: Third weekend before May long weekend (posted in March)
Length: One weekend (Saturday & Sunday)
Prerequisites: Experience belaying.
Full course description
Trad Climbing
This course is intended to introduce you to placing protection and leading rock climbing pitches.
Typically runs: Weekend before May long weekend (posted in March)
Length: One weekend (Saturday & Sunday)
Prerequisites: Top rope climbing experience (belaying and anchor building), can confidently climb 5.9 routes outdoors (10a indoors), crack climbing skills, and ability to tie required knots (clove hitch, munter hutch fig. 8, prussik, etc.). Applicants must fill out course application form on calendar listing.
Sport Climbing
A 2 day course intended to introduce club members to single- pitch sport climbing, i.e. leading on on bolted routes. Participants will learn how to use quick draws to protect themselves on lead on a bolted route and how to setup and dismantle anchors when sport climbing. The first day will be instruction and climbing, and the second day mostly supervised climbing.
Introduction to Rock Climbing
This is a 2 day course intended to give participants an introduction to rock climbing. The goal is to provide a learning environment where people can learn the basic elements of outdoor rock climbing safely.
Typically runs: Weekend after May long weekend (posted in April)
Length: One weekend (Saturday & Sunday)
Full course description
Basic Mountaineering Course
A 4 day course over 2 weekends that is intended to introduce new club members to modern mountaineering techniques. Participants will learn how the basics of mountaineering, including various techniques that will enable you to travel safely and with confidence in the mountains. The typical format of the course is 1 night of Dry School, 
2 Days on Mount Seymour learning fundamentals, 
and 2 Days in Joffre/Matier area practicing fundamentals.
Typically runs: Second and third weekends after May long weekend (posted in April)
Length: Weeknight classroom session and two weekends (Saturday & Sunday)
Prerequisites: Introduction to Rock Climbing or equivalent experience.
Notes: Applicants must fill out course application form on calendar listing.
Full course description