Banff Centre Mountain Film Festival World Tour 2023 / 2024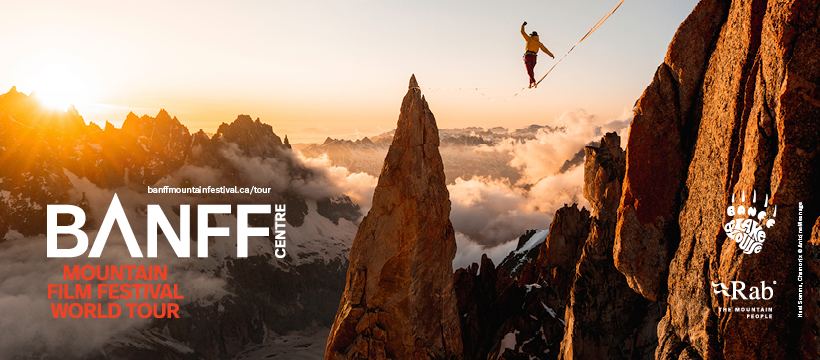 Ignite your passion for adventure, action, and travel! The Banff Centre Mountain Film Festival World Tour is coming to the
Centennial Theatre
in North Vancouver on
Friday December 1st, & Thursday, December 7th!
Travel to the most remote corners of the world, dive into daring expeditions, and celebrate some of the most remarkable outdoor achievements face to face with other adventurers. The 2023/2024 World Tour brings films from the 49
th
annual Banff Centre Mountain Film and Book Festival (BCMFF) to about 550 communities around the globe. From an exploration of remote landscapes and mountain cultures to adrenaline – fuelled action sports, films in this year's World Tour are sure to captivate and amaze the explorer within you. Be moved. Be inspired. Don't miss out. This World Tour is hosted by the
Alpine Club of Canada, Vancouver Section.
Did you know we have a Facebook page? Follow us on our BMFF World Tour Facebook page for more information: 
https://www.facebook.com/BanffMountainFilmFestivalVancouver
.
This year, both shows will run the ARNICA Program. For more information, see our online program.
Tickets are on sale now!

CENTENNIAL THEATRE, North Vancouver:  Friday, December 1 – 7:30 pm

(ARNICA Program)

CENTENNIAL THEATRE,  North Vancouver:  Thursday, December 7 – 7:30 pm

(ARNICA Program)

Tickets: $25 CAD
For the Virtual Tour in previous years, we will offer distinct programs in the Virtual Tour 2023/2024.
Pricing and schedules for the Virtual Tour coming soon.
The Virtual Tour rental period begins immediately upon viewing (as soon as the you press play) and films can be re-watched within their rental period.
You will need to have an internet or wifi connection to view the films, as they are available only through online streaming (not download).
If you  have technical questions, please go to the Help Centre for more information. (Reviewing the "How do I watch on my SmartTV" may be particularly helpful)
The 2023 Banff Mountain Film Festival  takes place in Banff, Alberta (Sat, Oct 28, 2023 – Sun, Nov 5, 2023).
For more information email: 

[email protected]
Click below to see the promotional video for the 2022/2023 Banff Mountain Film Festival World Tour: