Banff Centre Mountain Film Festival World Tour 2020 / 2021 – Virtual Edition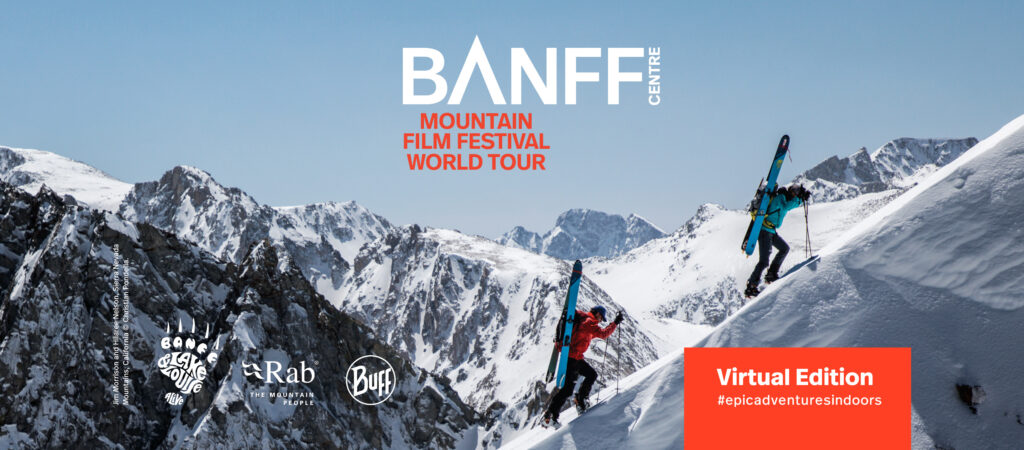 Ignite your passion for adventure, action, and travel!
This year, bring the adventure home! Fluff up your couch cushions, grab a snack of choice, and make sure you have good internet connection, because the Banff Centre Mountain Film Festival World Tour is going Virtual!  Travel to the most remote corners of the world, dive into daring expeditions, and celebrate some of the most remarkable outdoor achievements, all from the comfort of your living room. 
The COVID-19 pandemic has created extraordinary circumstances around the world and many of our live World Tour screenings have been postponed or canceled.  While we can't replicate the experience of seeing the Banff films on the big screen our Vancouver theatres, surrounded by friends and your community, these curated programs of amazing outdoor films will inspire you to live life to the fullest… however that looks these days!
The 2020/2021 World Tour brings films from the 45th annual Banff Centre Mountain Film and Book Festival (BCMFF) to about 550 communities around the globe. From an exploration of remote landscapes and mountain cultures to adrenaline-fueled action sports, films in this year's World Tour are sure to captivate and amaze the explorer within you.
BCMFF has been a major fund-raiser for the Vancouver Section of Alpine Club of Canada for many years, and has been key to helping us offer our wide range of programs, and support organisations aligned with our mission in Vancouver, British Columbia. We are really hoping that sales of this online event will help to raise funds for us to continue to offer our full range of activities to the community in 2021.
Be moved. Be inspired. Don't miss out. This Virtual World Tour is hosted by the Alpine Club of Canada, Vancouver Section.
Did you know we have a Facebook page? Follow us on our BMFF World Tour Facebook page for more information: https://www.facebook.com/BanffMountainFilmFestivalVancouver.
Ticket sales will be available starting at 7:00 AM PST on November 26th, 2020 – you don't want to miss this! 
As in previous years, we will offer 2 distinct programs in the Virtual Tour 2020/2021. There will be "Amber" Program and "Onyx" Program
Tickets go on sale on Thursday November 26 for Individual programs $15 USD (3-day rental period)  & for Bundle programs (2 programs): $28 USD (14-day rental period)
The rental period begins immediately upon viewing (as soon as the you press play).
Films can be re-watched within their rental period.
You will need to have an internet or wifi connection to view the films, as they are available only through online streaming (not download).
If you  have technical questions, please go to the Help Centre for more information. (Reviewing the "How do I watch on my SmartTV" may be particularly helpful)
The 2020 Banff Mountain Film Festival  took place in Banff, Alberta (Oct 31-Nov 8, 2020).
For more information email: 

[email protected]
Click below to see the promotional video for the 2018 Banff Mountain Flim Festival World Tour.