A community of mountain enthusiasts
As individuals we organize and participate in a variety of activities, from family hikes and easy day trips to more strenuous mountaineering, rock climbing, backcountry skiing, snowshoeing and ice climbing trips.
We are committed to engaging our 1500+ members in the outdoors by offering ski and climbing camps, numerous courses, workshops and opportunities to practice. We have two fantastic huts in the Tantalus range: one at Lake Lovely Water and the Jim Haberl hut in the Serratus-Dione col.  Our members can also use the huts managed by the national club and the Spearhead Hut Society too.  See our huts page for more information.
We also have social gatherings such as monthly meetings with presentations at various venues and sponsor other events.  The Banff Mountain Film Festival World Tour comes to Vancouver sponsored by the ACC Vancouver Section.  Check out our trip and event calendar for more details.
Please see our news blog – located under the Community tab for the latest updates on how we are operating with COVID-19
Find your next adventure by selecting an activity type.




Check out the latest news, trip reports and group discussions for tips and updates.
Subject: ACC Vancouver News & Upcoming Events The Alpine Club of Canada - Vancouver Section Monthly Newsletter for Members & Friends of the Alpine Club of Canada Vancouver Section May 7, 2021 QUICK LINKS Calendar of Events (iCal)  Like us on Facebook...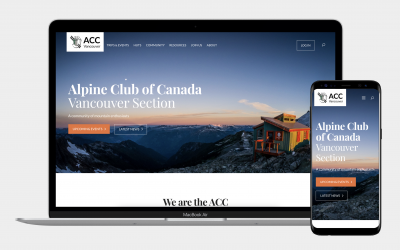 The Vancouver Section executive has been working on a new website design for about three years. Special thanks to Florian Geier, Raz Peel, Martin Siegert, Jay MacArthur, Rob Janousek, Anna Milino, Claude Vassaz, Mitch Lenton, and others …
Viewing 2 topics - 1 through 2 (of 2 total)
Viewing 2 topics - 1 through 2 (of 2 total)
Come and join us at one of our monthly meetings and slideshows, usually starting at 7:00 pm on the fourth Tuesday of the month, throughout the year. The location and venue may change month to month, so please check our trip calendar for details.
If meetings and slideshows aren't your thing, don't worry, some trips are also open to non-members at the trip leaders discretion. After spending a day or weekend exploring the mountains with us, we're confident you will want to join.
Join the ACC
Membership is open to everyone, regardless of their level of mountain experience.