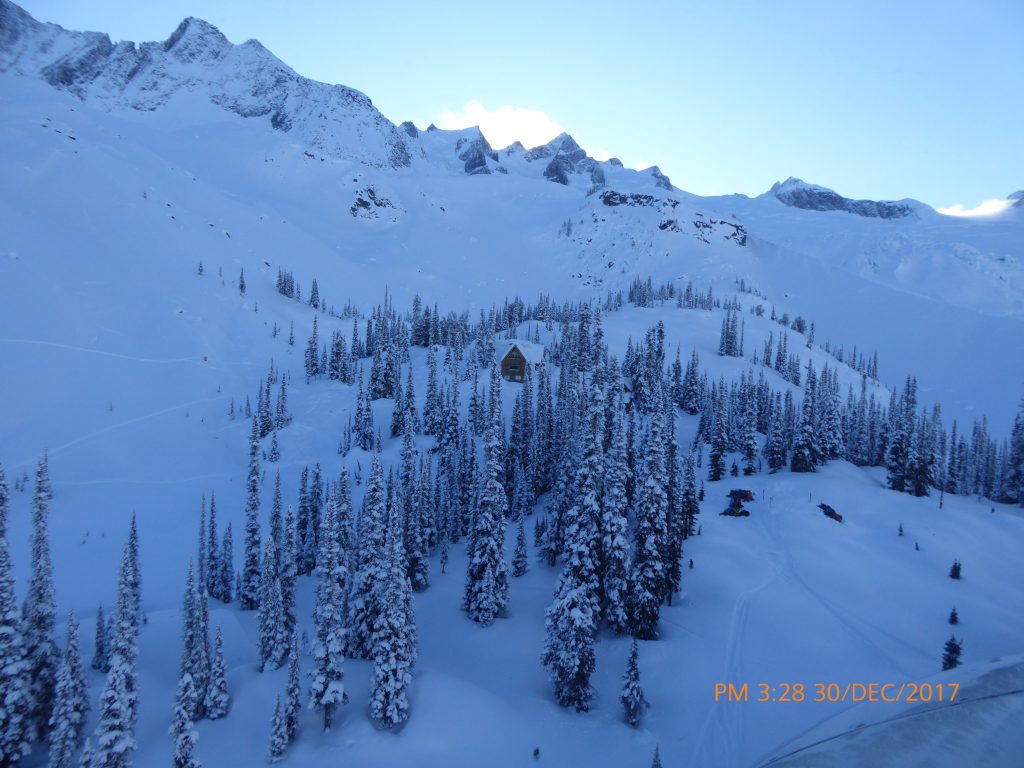 Description
ACC Vancouver 7 days backcountry ski week based out of Fairy Meadows alpine cabin in Adamant  Range in North Selkirk mountains. Fly in on Mar 23rd (must overnight in Golden as the flight is in the morning).  Fly out on Mar 30th. Both flights are weather dependent and some flexibility is needed. This hut is notorious for delayed flights.
This trip will be self catered and self guided.
The Fairy Meadow hut is situated in the heart of the Selkirk Mountain range, right on the edge of the Granite Glacier, the Echo Glacier, and the Gothic Glacier in the heart of the Selkirk Mountain range. The hut sits at 2,050 m (6,700 ft), and has a plethora of options. The Northern aspect of much of the terrain holds the cold snow well and the surrounding peaks provide runs up to 1,300 m elevation change. All this with skiing all the way back to the door, where an ample communal area and cozy sauna await.
To enjoy the area you will need to be a strong intermediate skier with a reasonable fitness level, capable of skiing 5000 to 6000 vertical feet in a day. Your endurance level should be such that you could stay out skiing for 6 to 8 hours. It is essential to have previous b/c experience and be able to contribute in route finding, avalanche assessment, and trail breaking.
Fairy Meadow area is famous for mountaineering year round and skills like travel on steep snow and self arrest are essential.  The terrain around the hut is heavily glaciated and glacier travel/rescue skills are a strong asset. Lack of that training doesn't mean inability to join, but we have to plan how to travel safely there.
Communal meals in groups will be organized. I'll try my best to facilitate dietary restrictions/preferences when planning that part.
The cost is $1,450 per person.  50% deposit by e-transfer is required to confirm your spot as soon as the organizer notifies you. The remainder is due on November 1st.
Carpool will be organized closer to the date of the trip.
Here is a link to a map I created in Caltopo: https://caltopo.com/m/ELG1P    You don't need a membership for Caltopo to use the map. If you open it on a computer, you will see the menu of the runs/shapes on the left side of the screen. On top of that left side you can see Export/Import – you can export the lines you'd like and use them on your preferred mapping software.
Lee Lau has very detailed trip descriptions of the area on his blog. On some of the pages, he included very nice map trims. I think his blog is a wonderful resource. Here is the link for the first day of his skiing there: http://www.leelau.net/sharonandlee/fairy-meadows-2007-day1/   You can access the other days of his stay there in his blog. I believe he was there for 2 weeks, so they covered a lot of ground and it's well described.
Gear: Backcountry ski/ splitboard gear. Beacon, probe, shovel, harness, personal glacier gear, and headlight are mandatory.
Communication (radios and emergency), and glacier group gear will be organized.
Guest sign-up
Only members can sign up to this event. If you are already a member, please log in first.