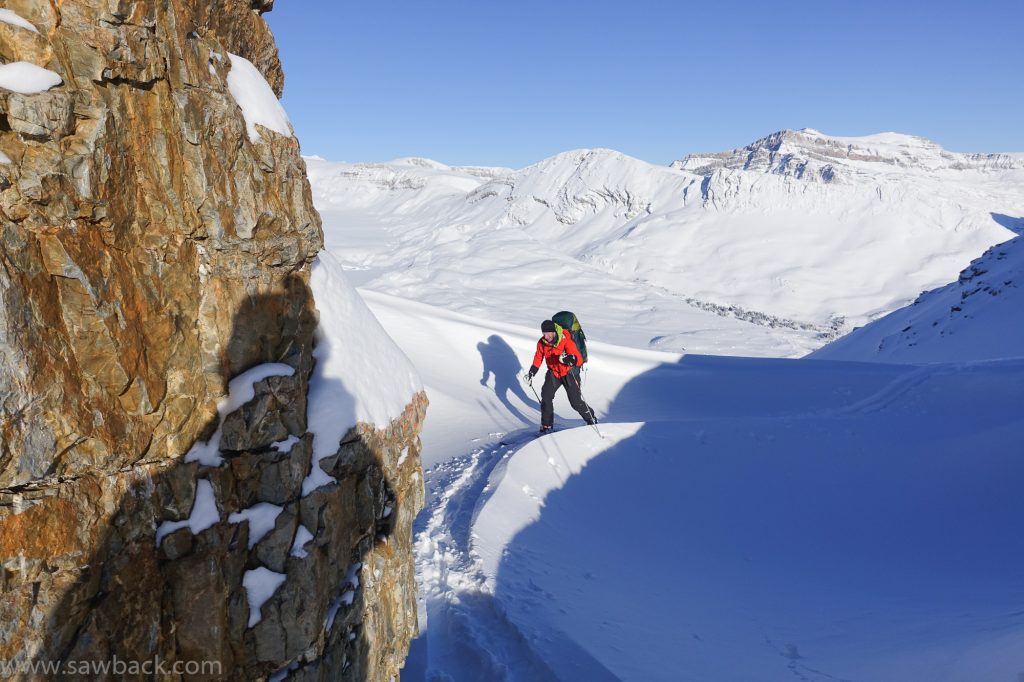 Description
The spectacular Bow Yoho Traverse runs roughly north-east to south-west across the continental divide from Bow Lake to the Yoho Valley, crossing the Wapta, Yoho and Des Poilus icefields on the way. We take away a lot of the hard work and add a lot of fun to this classic Canadian Rockies hut to hut ski traverse. Porters bring our food into Bow and Stanley Mitchel huts, making for light packs and easy traverses. We will spend our days travelling and shredding March Powder. Nights we enjoy the comfort of three cozy Alpine Club huts that dot this high level traverse. There's no sense in rushing this traverse, so we will spend two nights at the ACC's new Guy Hut, a state of the art flagship hut perched on a high ridge between the Yoho and Des Poilus glaciers. Then we'll spend our last two nights at one of the ACC's quaintest and oldest huts, the log-built Stanley Mitchell, and warm ourselves to a crackling fire below the treeline.
For decades, the Wapta Traverse has had a legendary reputation as a destination for ski mountaineering. Really, it has it all: an excellent hut system, perfect terrain for traverses, and easy access to excellent ski mountaineering objectives.
A near neighbour, the Bow-Yoho Traverse, crosses the Wapta at about a 45-degree angle. It is just as good, but it has only gained popularity recently, with the addition of the ACC's most deluxe hut yet: the Richard and Louise Guy Hut. Situated between Bow and Stanley Mitchell Huts it turns a daunting 12+ hr day into two short days.
This new hut also provides a staging point for objectives around the Des Poilus Glacier zone: Mt. Collie, Mt. Des Poilus, and Yoho Peak are a few of the options that previously required either very long days from huts, or a high camp. Now you've got the state-of-the-art Guy Hut to return to at the end of the day! We will spend our first nights at the Bow Hut, two nights at the Guy Hut, and a final two nights at Stanley Mitchell Hut.
Our traverse begins in Field, B.C. with a gourmet dinner at the famous Truffle Pigs Bistro, as well as a hotel stay – both included in the trip price! I've found that this is a great way to set the tone for these trips and a great chance to mingle with the group before the tour begins.
This itinerary is longer than some other Bow-Yoho trips offered, giving us more time to explore the incredible ski mountaineering available instead of putting our heads down and charging through the traverse.
The best time of the year is late March to late April when the snowpack is settled and you can still count on dry powder runs; this trip is right in that perfect window.
Prior to Covid this was a popular annual section trip, so we're happy to be offering it again. It is a guided and catered trip run by Tom Wolfe of Sawback Alpine Adventures. A 10% discount off the regular trip price applies to all members of the ACC Vancouver section who sign up for the trip through this website. This discount is already reflected in the trip price shown on this page.
A detailed trip information page can be found here.
Guest sign-up
If you are a member, please log in before signing up to the event.